Shoes that allow your baby to comfortably start walking practice
When baby goes from crawling to standing, shoes that have been designed with the functionality necessary for beginning walking practice. Pre-Shoes gently protect baby's delicate, undeveloped bones and muscles while still transferring the feeling of walking barefoot and urging foot development. With the feeling of being barefoot, these shoes are perfect for walking practice inside on the soft floor or for going out in the stroller.
Pre-Shoes: Size 10.5cm-12.5cm
*Size range varies depending on the product.
The sole boasts the proper weight for a barefoot feeling.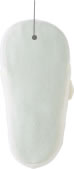 A special combination of fibers has been used so that the sole forms to baby's feet their first time wearing shoes. The proper grip makes slipping difficult while still providing the feeling of being barefoot and encouraging foot growth.