Zero twist yarns series For delicate babies - Why we recommend zero twist weave
2017.07.14

Towels and baby wear are essential items for babies. While not that many people might be concerned with the material that's used for their own towels, when it comes to towels for their babies, it's a different story.
That's why we recommend products made with zero-twist yarns, a unique material that's perfect for baby use.
Zero twist yarns are a special kind of yarn woven with no twist in its fibers. In comparison to products made using normal yarns, zero twist weave products are the plushest, softest types of products you can buy. Highly absorbent yet it retains its softness after washing. Offers a soft, white surface tint.
What's the secret behind its softness?
Out of all the product MIKI HOUSE offers for newborns, the most popular item is the "Bath Poncho Set." This product can be used as a baby wrap or a towel during the newborn days, and once the baby grows, it can be used as a bath poncho. It also comes with a hand towel and mittens. This bath poncho is made with the popular zero twist yarn.

We asked Mr. Taizo Ueda of MIKI HOUSES's product management team about the secret behind zero-twist yarn's softness.
"Just like the name suggests, zero twist yarns are yarns made without twisting the fiber. Many types of fabric are spun multiple times, which makes the product harden after washing it. While cotton has the natural tendency to become hard, zero twisted yarns created using a special technique absorbs air between the fibers, creating the fluffiness. In addition, non twisted yarns have the tendency to fluff up, but because we use a type of cotton whose fiber length is longer than usual, our products are fluff-up free. Its high absorbency as well as its easy and fast maintenance is also an appealing point."
Ms. Emi Ota, a member of the product creation talks about how she's always used zero twist products like the bath poncho set for her own child.
"When my child was a newborn, I used it as a baby wrap, and once she turned one, I used it as a bath poncho as well as a towel."

"Soft products for babies. This is a common notion among parents, and there are many parents who gives a close look to zero twist products at our stores too. The hoodie designed with ears also gives off a cute look, which is another popular point. Fluffy zero twist products are ideal for gifts too."
Other products within the zero twist series are afghan, mittens, booties and baby wear. We also have body wraps made with zero twist fiber that has heat retaining ability.
Zero twist yarn bath poncho set

Teddy bear faced bath poncho comes in a set with a hand towel and mittens. It can be used as a baby wrap during the newborn days, and even after the infant turns 2, it can be used as a bath poncho.
White knit and zero twist yarn set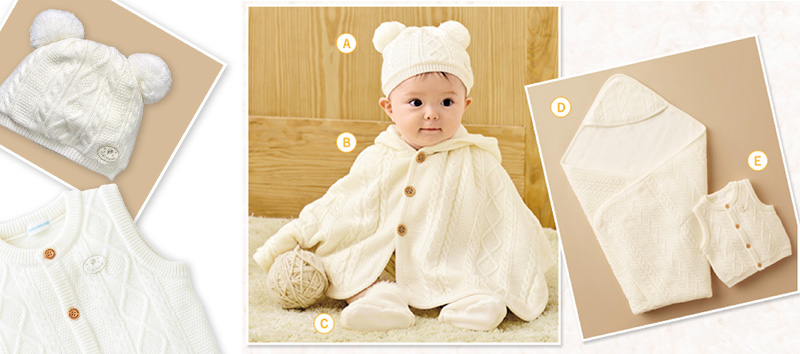 The outer side is a white knitted cape that brightens up the baby's face. The inner side is made with 100% zero knit yarn that gently wraps the baby's delicate skin.
A: Hoodie (Free size 44-48cm)
B: Cape (Free size 60-90cm)
C: Bootie (Free size 12cm)
D: Afghan (Size 85×85cm)
E: Vest (SS 60-70cm, S 70-80cm)
The bootie isn't made with zero twist yarn
You can create a cute outfit with the hoodie and the poncho!

Fluffy and soft two-way-overalls!
Coordinate them with hoodies!
Zero twist yarns can be worn all year long.

Two-way-overall (Free size 44-48cm)
Hoodie (Free size 44-48cm)
Baby apron
Baby wraps can be worn over undergarments and it's an essential item to protect the baby's warmth. Square-sized bath towels are ideal for babies, the head pocket allows the towel to be used as a baby wrap. 
When choosing mittens and gloves, look out for its stretchiness.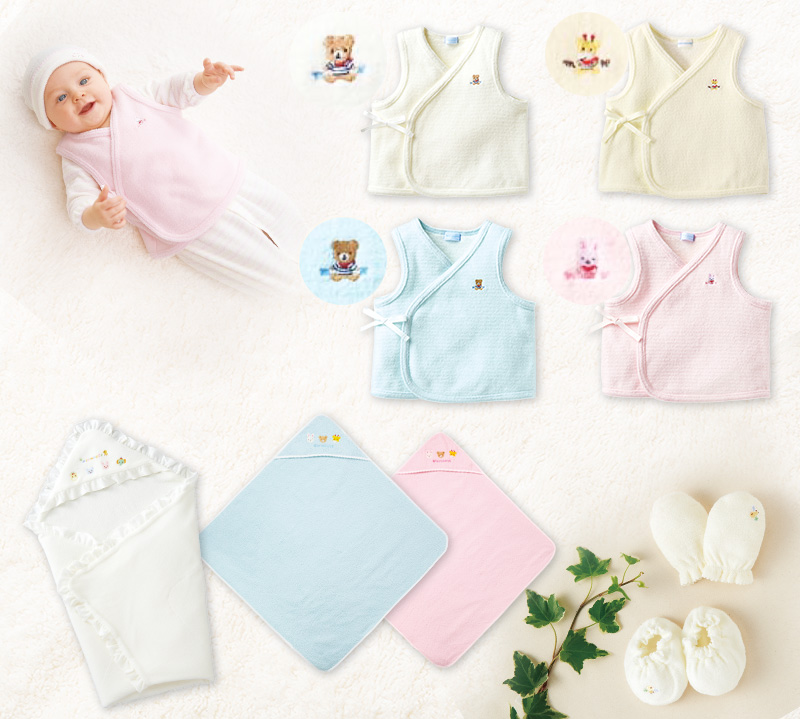 Baby wrap: (Size 50-70cm)
Baby bath towel (Size 80×80cm)
Mittens (Free size)
Bootie (Free size)