Functions of Our Shoes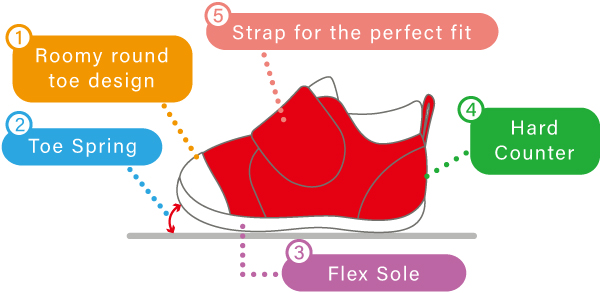 ①Roomy round toe design
Children can feel and grip the ground with their toes as they learn to walk with plenty of room for the toes.
②Toe Spring
The toe is slightly upturned to prevent tripping.
③Flex Sole
Designed to match the natural curve of the foot. Helps promote smooth walking, as well as shaping the arch of the foot.
④Hard Counter
Supports and protects the fragile ankle from impact, prevents leaning, and increases sense of unity with the shoes for stable walking.
⑤Straps for the perfect fit
The straps are designed to help secure the ankles and offer customizable fit to meet the individual needs of each baby, adjusting to their individual instep height.
*Some products may not come with all features.
First Shoes (Sizes 11cm - 13.5cm)
First Shoes are designed to soundly support your toddling baby through their clumsiness as they explore. Using comfortable materials, a design that gently wraps around your baby's feet, and a slightly upturned sole, these shoes will promote natural, healthy walking.

Second Shoes (Sizes 13cm - 15.5cm)
Second Shoes are for babies who have just begun to run and jump, expanding their world around them. In comparison to First Shoes, the sole is much thicker, and features additional reinforcement on the toes and sides, all designed to protect the feet from impact. We also carry shoes in our lineup that feature anti-slip design with sole grips, and shoes that use athletic-shoes technology such as highly cushioned soles.

Kids Shoes (Sizes 15cm - 21cm)
Our Kids Shoes include a wide variety of designs, such as casual, sporty, or formal, that fit a multitude of occasions. Materials, sole structure, instep fit, etc., may vary from item to item. Please wear the appropriate shoe for each occasion.