Introduction to Japanese underwear designed while putting the safety of babies first.
2017.6.23

MIKI HOUSE Innerwear"Hadagi"
A baby's skin is very delicate, only half as thick as an adult's. Because they directly touch this tender skin, we pursued softness, safety and security in our innerwear.

Natural fiber 100% cotton
This "superb cotton" excels in water absorption, durability and moisture retention. The texture is soft, fluffy and tender to the touch.
The soft touch of the fabric causes no stress to the baby.
The full stretch of the fabric supports the baby's natural movements.
The stitches do not show on the outside, making it look neat and clean.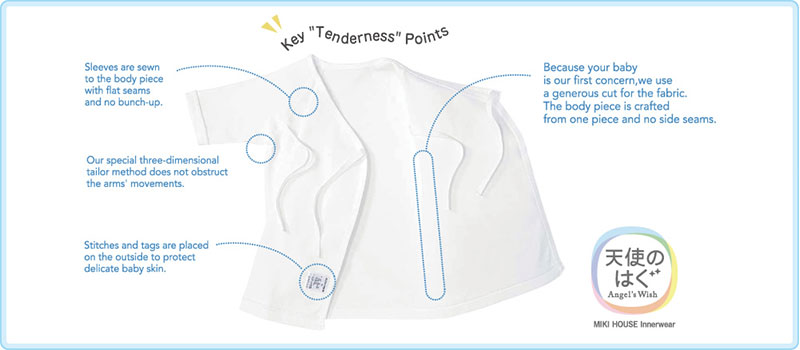 Key "Tenderness" Points
Sleeves are sewn to the body piece with flat seams and no bunch-up.
Our special three-dimensional tailor method does not obstruct the arms' movements.
Stitches and tags are placed on the outside to protect delicate baby skin.
Antibacterial and Antiviral PropertiesPUREVEIL
We want to protect babies who are less immune to bacteria and viruses. This thought led to the development of PUREVEIL, which hinders the activity of over 99% of bacteria and viruses on the surface of the fabric, and prevents them from becoming infectious. It is safe for babies because the main ingredient "Etak"used is originally designed for cleaning and disinfecting mouths. The antibacterial and antiviral properties last even after washing more than 50 times.
Restrains activity of viruses and bacteria that adhere to the surface of the fabric

Antibacterial and antiviral
properties last after numerous washing


Safe because the main ingredient is "Etak," a disinfectant used for inside the mouth
MIKI HOUSE Quality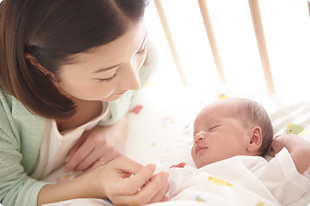 MIKI HOUSE baby wear is designed to meet the needs of mothers and fathers who want to do whatever they can to make their babies as comfortable as possible. Baby wear is the first item of clothing most newborns wear. An infant's skin is roughly one millimeter thick. At half the thickness of an adult's, it has yet to develop much resistance to external stimuli. In order to protect this delicate skin, MIKI HOUSE baby wear emphasizes functionality and the use of specially selected materials and stitching. For example, we take care that seams are formed on the outside of our wear, so that they do not come into contact with the skin.

We also use special machines to stitch sleeves to ensure that there is no roughness. Everything we do is aimed at making the most suitable wear for your newborn baby.
Fraise knit innerwear
100% cottonAll-seasonMade in JapanPUREVEIL
Undershirt
Knit gauze innerwear
100% cottonAll-seasonMade in JapanPUREVEIL
Undershirt
Jersey innerwear
100% cottonSummerMade in JapanPUREVEIL
Undershirt