Ideal place for the first family vacation Best way of getting around? Place to stay
2017.07.21

First family vacation - what should I watch out for?
The first family vacation - this is probably something many parents are looking forward to having once they get used to their new lives with a baby - perhaps during the summer when it's easier to take a longer break.
Yet, every "first" experience is full of worries. We asked parents who are planning their "first family vacation" what their concerns are.
"My daughter is seven months old, but I still haven't taken her out for a long period of time. When can I start taking overnight trips? Can I also take her on an airplane?"
(Mom in her 30s living in Tokyo)

"My husband and I talk about taking a vacation at a hot spring but because babies get fevers easily and their conditions change rapidly, I'm a bit afraid of taking a trip. To be fully prepared for any situation, I feel like I'll have to pack a lot of things...I would like to know what other parents took on their first family vacation"
(Mom in her 20s living in Saitama)

"Because I was able to take some time off, I'm thinking on going overseas for our first family vacation. But my wife is worried about going to a foreign country as our first family trip, I wonder what other families are doing for their first family vacation"
(Dad in his 40s living in Tokyo)

It's very natural for parents to become worried and concerned when it involves their children, but backing off from the trip would be very upsetting. By getting advice from other moms and dads and preparing beforehand, it's possible to have a fun "first" family vacation. Here at MIKI HOUSE, we conducted a survey through our child upbringing support website "Happynote.com," run by the Child Upbringing Research Institute to answer questions and concerns of moms and dads.
When can I start taking trips?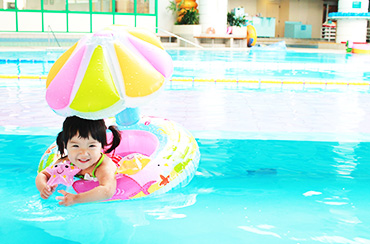 When asked "How old was your child when you took your first family vacation?" 32.2% of the parents responded "between 6 and 12 months," 21% of the parents responded "Between 12 and 24 months," and 18.9% of the parents responded "Under 6 months." From the survey, it was found that more than half of the parents planned their first family trips within a year after their baby was born. However, there are others who prefer to take trips later, once their children are old enough to remember the vacation.
reference:http://www.happy-note.com/research/10588.html
Means of Transportation?
Cars were the most popular choice among parents when it comes to means of transportation. Trains came in second, bullet trains third, and airplanes followed in fourth place. Cars are especially ideal for first vacations as it's easiest to travel smoothly without having to share space with strangers. However, it's important to note that in trains, children under the age of six ride for free, while domestic flights are free for children under three. There are many parents who use trains and airplanes to take trips that are a bit far away.
reference:http://www.happy-note.com/research/10657.html
What should we bring?
Best five items chosen by moms and dads for summer time vacation are as follows in genre.
[Health Products]
Health insurance card, sun screen, bug spray, mother-child handbook, bandages
[Food Related]
Drinks (Tea and juice), snacks, tooth brush/tooth paste, water, apron
[Others]
Change of clothes, underwear, diapers, plastic bags, hats

In addition, strollers, breastfeeding cover, buckle carriers, toys, and books are popular items too among parents.


reference:http://www.happy-note.com/research/10601.html
When Can I Start Taking My Child Overseas?

When do most parents begin taking their kids to vacations overseas? According to a survey, it was found that 26% said 6 years or older, 17.4% said 1 years old, 14.8% said 3 years old, 13.5% said 0 years old, 10/9% said 2 years old, 10.5% said 5 years old, and 6.9% said 4 years old. 30% of the parents had experience taking their babies abroad when they were less than 12 months old; on those trips taken, 39.3% of the parents responded that the flight time was under 3.5 hours, and about half chose within 2 hours, which shows that most parents chose destinations that are close from home.
reference:http://www.happy-note.com/research/sp3.html
Welcome Baby Hotels
"What concerns us the most on first family vacations is the place to stay" – many parents have concerns regarding lodging, as the time you spent in hotels tends to be longer when you're travelling with a young child. It's only natural for parents to want to choose a lodging place that's safe and comfortable to stay, which is why we recommend hotels approved as "Welcome baby hotels," places chosen by the MIKI HOUSE child upbringing research project. We asked Ms. Kumiko Iwamoto, a professional certifier of the "Welcome baby hotels" and Ms. Aya Yamamoto from the MIKI HOUSE child upbringing research project about the hotel system.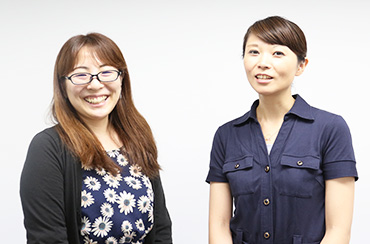 Ms. Yamamoto of Miki House Child Rearing Research Institute (left)
and Ms. Iwamoto, certified professional of "Welcome Baby Hotels"
How are "Welcome baby hotels" certified?
Ms. Iwamoto: First in order to certify a hotel as a "Welcome Baby Hotel," we first have a pair of certifiers stay at the hotel overnight, where they conduct checks on 100 different criteria. Hotels who clear at least 70 criteria are given the certification as a "Welcome baby hotel."
–100 criteria! That's a lot!
Ms Yamamoto: These criteria are chosen by moms and specialists, and they range from "Safety measures taken in the room" to "stroller accessibility," "bathrooms and toilets designed for usage with infants," "whether they provide baby food menus," "Family friendly service," and "surrounding environment."
Is there a special point you focus on?
Ms. Iwamoto: We first check whether there are places that are dangerous for children. For example, it's common for tea cups to be placed on top of low tables and hard chairs to be set in bedrooms at Japanese-styled hotels, but this isn't a safe environment for children. In the case with infants, hotels with tatami flooring where guests take their shoes off provide a clean, safe place for babies to crawl. Recently, there's are European-styled places that prohibit shoes in the rooms, or use lower beds.
That gives us comfort in staying with young children.
Ms. Iwamoto: It's also important to take into consideration if the whole place is stroller accessible. Using actual strollers or suitcases, we go around the hotel to check to see if there's any places with steps that impede smooth movement.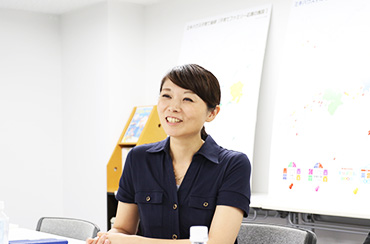 Ms. Iwamoto, a certified professional,
is qualified as a residential building trading dealer.
She is also a mother of 4.5 year-old boy.
When choosing a place to stay, what should moms and dads look out for?
Ms. Iwamoto: It might be wise to check is the hotel provides bath chairs, baby soap, bed guard fences, and garbage cans for diapers. It is also important to make sure that you'll be able to use disposable diapers and powder milk in the hotel, as it's always a hassle to bring a lot of things. For infants who are past the breastfeeding age, it might be nice to see if the hotel provides baby food menus or meals suited for children with allergies.

Ms. Yamamoto: "I'm grateful for a lot of voices, such as "I'd like to stay here again" or "I would like to stay at another welcome baby hotel for the next time."
Are there other points that parents should look out for?
Ms. Yamamoto: Finding a hotel that's baby friendly is important, but it's also important to take into consideration is it's a place that parents can relax. The point of a vacation is to heal daily stress, so hotels with spas might be nice for moms. Dads, make sure to take care of your baby while mom is enjoying her time at the spa!
That's so true!
Ms. Iwamoto: All of the "Welcome baby hotels" values if parents can relax, as that is something as important as relaxation for babies.
Hot springs are also nice for healing purposes. When can babies start going into hot springs?
Ms. Iwamoto: It's safe for babies older than 7 months old, if the water is below 40 degrees Celsius. When entering a hot spring with your baby, watch out for slippery floors. Bedrooms with a private hot spring might also work for families with infants.

Ms. Yamamoto: If there is a pool in the hotel, even babies can have fun, while hotels with activity workshops will work for families with toddlers.
Ms. Iwamoto: When babies are young, it's common for them to get sick very easily, so the hotels we recommend have emergency kits while some places while directly introduce you to a nearby hospital. When choosing a hotel, it might be important to take into consideration if there's a hospital nearby.

Ms. Iwamoto: I personally first used a "Welcome baby hotel" when I took my first family vacation with my one-year-old son.
So you had already been a user of the "Welcome baby hotel" before you even became a certifier!
Ms. Iwamoto: Yes, from my experience, the "Welcome baby hotels" were not only easy to use with it baby friendly services, but the staff working there was also very nice and caring. I still have great memories from our first family vacation.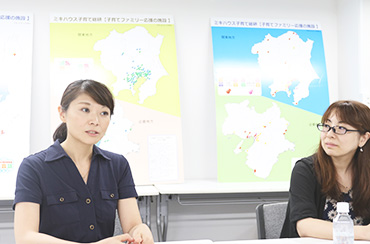 Ms. Iwamoto: "It is so important for the
first-time travelers with their baby to select a right hotel."
Did you choose your current job because the experience you got at "Welcome baby hotels" were so nice?
Ms. Iwamoto; Yes, indeed. Part of the reason why I'm doing this job is because I want other families to experience the "happiness" I was able to get when I stayed at a hotel certified as a "welcome baby hotel." When travelling with young children, especially at the very first travel with your baby, choosing a hotel could be a difficult task, which sometimes event decides the fate of the trip, which is why I want to help out parents who are trying to choose the best hotel for their vacation.
It's always important to make good memories during your first trip too, right?
Ms. Yamamoto: Trips with your children are different from couple vacations as the things you can do gets limited. However, on the other hand, because the activities you can experienced are limited, it allows you to spend a more relaxed time, providing parents an opportunity to see thigs from a child's perspective, which might lead to new discoveries. Trips is a chance for parents who are usually busy to connect with their children, which is why we recommend parents to start taking family vacations from a young age.
There might be a lot of parents who have taken "couple" trips, but the first family vacation is something that's completely different. Trips with babies are limited, and you might encounter small troubles on the way. However, even if you can't hit all of the tourist spots, the trip will definitely become a special one as it's the first one you'll be taking with your child. For parents who are yet to take their first family vacation, bon voyage!