The flexible upper materials, the soft pile fabric, the flexible rubber sole, etc., all materials are used to the fullest of their abilities and every detail is carefully chosen to provide a comfortable wearability.
• The parts used are as large as possible and the number of seams in between parts is limited.
• Through special sewing techniques, the areas that may bump such as the heel and the pad at the mouth of the shoe have been made as small as possible.
• An easy to wear shoe is realized through a design that was developed from a pattern that does not limit flexibility.
• The three dimensional and hard to destroy pattern ensures the strength of the shoe.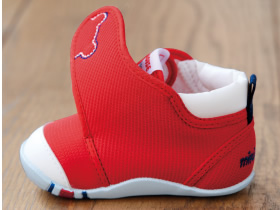 Large parts with limited seams.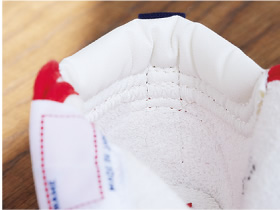 Special sewing techniques ensure small bumps.